Vietnam Historic & Natural Discovery for 18 Days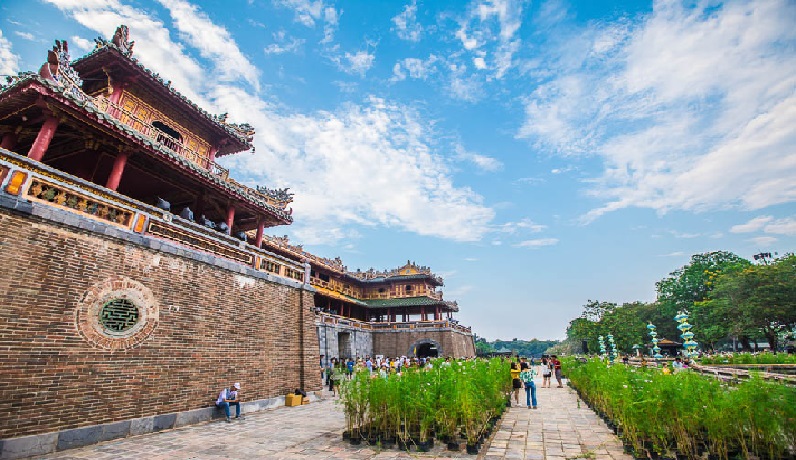 Tour starts at (city): Hanoi
Tour duration: 18
Hanoi – Sapa – Halong Bay – Hoi An – Danang – Hue – Ho Chi Minh City (Saigon) – Nam Cat Tien National Park – Mekong Delta
TOUR DETAIL
Itinerary in brief

North Vietnam – 6 Days
Day 1: Hanoi Arrival (D, G)
Day 2: Hanoi City Tour – Night Train to Sapa (B,L,D; G)
Day 3: Sapa – Villages & Rice Terraces (B,L,D; G)
Day 4: Fansipan by Cable Car – Hanoi (B,L,D; G)
Day 5: Hanoi – Halong Bay (B,L,D; G)
Day 6: Halong Bay (B,L; G)
Central Vietnam – 6 Days
Day 7: Hanoi – Fly to Danang – Hoi An (B,L,D; G)
Day 8: Hoi An – Farming & Fishing Tour – Walking Tour (B,L,D; G)
Day 9: Hoi An Leisure (B, G)
Day 10: Hoi An -Danang – Hue (B,L; G)
Day 11: Hue City Tour (B,L; G)
Day 12: Hue – Fly to Saigon (B,L; G)
South Vietnam – 6 Days
Day 13: Saigon – Nam Cat Tien National Park (B,L; G)
Day 14: Nam Cat Tien National Park (B,L; G)
Day 15: Nam Cat Tien National Park – Saigon (B,L; G)
Day 16: Saigon – Cu Chi Tunnels & City Tour (B,L; G)
Day 17: Saigon – Mekong Delta (B,L; G)
Day 18: Saigon Departure (B,L; G)

KEY:
B = Breakfast
Br = Brunch
L = Lunch
D = Dinner
G = Guide
GP = Guide pick-up
DP = Driver pickup
North Vietnam – 6 Days
Day 1: Hanoi Arrival (D, G)
Arriving at Noi Bai airport in Hanoi, you'll be met and driven to your hotel in Hanoi. You'll have time to relax after your journey.
18:00: You'll have a 'Welcome' dinner at a Vietnamese restaurant in a restored French colonial building.
19:00: You will enjoy a performance of traditional Water Puppetry, an art form unique to northern Vietnam, and a good, light-hearted introduction to its rural culture.
You'll spend the night in Hanoi.
Day 2: Hanoi City Tour – Night Train to Sapa (B,L,D; G)
Breakfast is served at your hotel.
You'll have the whole day to explore Vietnam's capital city. Your guide will take you to the Temple of Literature, the first university in Vietnam dating back to the 11th century, and a popular attraction, as is Ho Chi Minh's Mausoleum. You'll then drive to the excellent Ethnology Museum for an overview of Vietnam's 54 distinct ethnic groups in anticipation of your trip to Sapa the next day.
We'll arrange your programme to avoid the busy times at popular destinations, but if there's anything you particularly want to see, let us know.
You'll enjoy the night in Hanoi.

Day 3: Sapa – Villages & Rice Terraces (B,L,D; G)
06:00: Our private van will pick you up at your hotel, beginning your trip to Sapa. Following Noi Bai – Lao Cai highway. Along the way, you will have a chance to enjoy the beauty of northwest mountains, terraced fields are sparkling in sunlight or dim in thick fog. Stop and have a rest in 30 minutes.
Sapa is a small town perched on the mountainside opposite Mt. Fan Si Pan, Vietnam's highest peak. After lunch at your hotel, you'll be driven along a scenic valley to visit some of the H'mong ethnic minority villages. After a stream-side picnic lunch, you'll visit the Red Dao ethnic minority people of Giang Ta Chai village. Later in the afternoon, you'll return to Sapa for your overnight accommodation.
Day 4: Fansipan by Cable Car – Hanoi (B,L,D; G)
After breakfast at hotel, you will begin the trek up Ham Rong (Dragon's Jaw) Mountain.
HamRong Botanical Garden: don't miss the lovely botanical gardens above the main square in town with their spectacular viewpoint from the top. There are fabulous views of the town and the wider landscape as well as tended gardens to visit. This park is essentially a long cobblestone walkway to the top of Ham Rong Mountain. It's a strenuous climb, but the panoramic vista at the top is well worth tackling all those stairs. Along the way, there are countless potted orchids, beautiful landscaped gardens and a few really tacky statues of cartoon characters like Scooby Doo and Mickey Mouse. One word of caution, the stone stairs could be treacherous on a rainy or misty day.
Go back to your hotel for check out and have lunch.
After lunch, transfer to Fansipan Cable Station for an amazing trip to reach the Indochina Roof, 3143m above the sea level: Starting by cable car and step up to the Peak, enjoy the fresh air and the beautiful landscapes from the high.
Return to the Station and transfer to Sapa Express bus.
16:00: It's time to say "Good bye Sa Pa!" and drive back to Hanoi.
21:30: We arrive in Ha Noi.

Day 5: Hanoi – Halong Bay (B,L,D; G)
08:00 Our private van will pick you up from Hotel to Sun Group harbour.
12:00 Arrive to the cruise check in Lounge
12:45 Boarding. Welcome drinks and a quick briefing of the itinerary and safety information by our Cruise Manager.
13:15 Enjoy your Lunch while cruising to magnificent Bai Tu Long Bay, admire the fascinating formations on the way.
15:30 Visit Vung Vieng floating village by rowing boat or kayak.
16:45 Back to boat, enjoy Spa, drink at bar counter or relax on sundeck.
18:30 Anchor at Cong Do area for overnight
18:40 Cooking demonstration with traditional Vietnamese food on the sundeck (or in the restaurant if weather does not allow).
19:30 A special dinner will be served in the restaurant.
21:00 Free time for Relax on deck, Beauty Spa services, drink service available or night time fishing.
Day 6: Halong – Hanoi (B,L; G)
06:30 Early start for a Tai Chi demonstration on the sundeck
07:00 Take in the morning view of the Bay's landscape with a cup of tea or coffee and enjoy light breakfast
08:00 Explore the well-hidden Thien Canh Son cave
09:00 Check out: please put your baggage out and settle your bill
09:30 Brunch will be served in the restaurant while the boat heads back to harbour.
11:15 Disembark and farewell.
Central Vietnam – 6 Days
Day 7: Hanoi – Fly to Danang – Hoi An (B,L,D; G)
Today you will be transferred to the airport for the flight from Hanoi to Danang. Arriving in Danang, our private van will pick you up and transfer you to the hotel in Hoi An.
You'll have free time to explore Hoi An By night

Day 8: Hoi An – Farming & Fishing Tour – Walking Tour (B,L,D; G)
Meet tour guide at our hotel in Hoi An
Transfer to the site where we start biking to a local farming village traveling along beautiful countryside roads ( Bus or bike are options to choose to go)
Learning about daily work life of local farmers in Tra Que organic farm village, sharing how to hoe and a soil, water vegetable at an organic herb garden, riding water buffalo in the field and enjoy the freshest air of the countryside's beauties.
Board the boat and cruise to the mouth of the Thu Bon river where it meets the Cua Dai seamount
Try your hand at local traditional fishing techniques using round and cast nets
Learn to paddle the strange and unique rounded Vietnamese bamboo basket boats
Explore the now tranquil coconut-palm flanked waterways of a past war and hear of the extreme conditions endured by soldiers on both sides
Have a relaxed fun with catching beautiful purple crabs on bamboo basket boat
Visit a local water coconut palm village, take a walk around the village and have some tea and snack with local talks…
Back onboard our boat, enjoy beautiful lunch and drinks
Return to our hotel in Hoi An by van

Day 9: Hoi An Leisure (B, G)
Today is a free day for you to relax and discover Hoian by yourself. You can book a driving tour to Cua Dai beach, about 4 km away. There's even the chance to improve your culinary skills with a Vietnamese cooking lesson! Overnight at hotel in Hoian.
Day 10: Hoi An -Danang – Hue (B,L; G)
After breakfast at hotel you can spend your time walking around exploring the many Chinese assembly halls and fascinating ancestral homes, some of which have been occupied by the same family for fifteen genera ions. Then we will transfer to Hue, check in hotel and relax. Dinner at local restaurant by yourselves.

Day 11: Hue City Tour (B,L; G)
This morning you explore Hue, including the Citadel and the Forbidden Purple City. You embark on a boat for cruise on the Perfume River and visit The beautiful pagoda of Thien Mu. Disembark the board for a visit the elaborate mausoleum of former emperor Tu Duc, Emperor Khai Dinh. By the way to the city, you will take a walk to the bustling Dong Ba market and pass many fantastic eating spots.
Day 12: Hue – Fly to Saigon (B,L; G)
Today you'll have free time on your own before taking the flight to Saigon (Ho Chi Minh city)

South Vietnam – 6 Days
Day 13: Saigon – Nam Cat Tien National Park (B,L; G)
After breakfast, travel 170km to Nam Cat Tien National Park in Dong Nai Province. Check-in at the guesthouse on arrival. At the national park, see an incredible diversity of birds and mammals living in the forest and wetland habitats of Cat Tien, comprising of about 230 species of birds, especially some endangered birds such as Germains Peacock-Pheasant, Green Peafowl, and Orange-necked Partridge. Some mammals like wild boar, Samba Deer, the rare Black-shanked Duoc Langur, Yellow-cheeked and Crested Gibbon are also found in the park. The afternoon is free for bird watching and photo shooting along the road or trails. Overnight in the park

Day 14: Nam Cat Tien National Park (B,L; G)
After breakfast, spend a full day of birding along the road and forest trails at Cat Tien national park. Hire a jeep at the park headquarters and visit some areas such as Bird Lake to see waders or Crocodile Lake where Lesser Adjutant, Green Peafowl, and Purple Heron can be found. During the walk through the forest to Crocodile Lake look out for Bar-bellied and Blue-rumped Pitta, Red, and Black and Banded Broadbill and Orange-breasted Trogon amongst others. Overnight in the Park.
Day 15: Nam Cat Tien National Park – Saigon (B,L; G)
In this final morning, explore the national park along the trails or perhaps the headquarters road to behold Green-eared, Blue-eared, Lineated, and Red-vented Barbet. Check out of the park guesthouse and meet up with the driver before leaving for the 150km drive to Dalat. It is a scenic drive through tea and coffee plantations to the cooler climes of the former colonial hill station. Transfer back to Ho Chi Minh city and have the rest of the day free at leisure. Overnight in Saigon.
Day 16: Saigon – Cu Chi Tunnels & City Tour (B,L; G)
In the afternoon, visit the Reunification Palace, the former Presidential Palace for the president of the puppet South of Vietnam government. After that, explore the War Remnant Museum to see countless artifacts, photographs, and pictures documenting the Vietnam War. Next, discover Notre Dame Cathedral and Old Post office to get good shots for our memory of the most fascinating city in Vietnam. In the evening, stroll around Ben Thanh market to buy some souvenirs (if you want) and taste some local specialties for dinner. Overnight in Saigon
After lunch, visit Cu Chi tunnels a.k.a the "Iron Triangle" or "Iron Land". Before exploring inside the tunnels, see a short video showing how they were constructed. Followed by an explorer, discover every hidden corner of the tunnels and see incredible underground life in the past. You also have a chance to see numerous mantraps, American tanks, and bombs left in the Vietnam War. Transfer back to Saigon for lunch.
Day 17: Saigon – Mekong Delta (B,L; G)
Wake up early this morning and pay a visit to colorful and vibrant Cai Be floating market. Then reach Tan Phong island for a biking or walking tour around the village to see the local daily life in fruit orchard, local school, church, pagoda, ancient houses. On the way, stop to see how they make rice-net for spring-rolls, sewing coconut-leaves for cottage roof and especially see how they wave the dried water-hyacinth to make many products: baskets, bags, hats, wallets, shoes…Next, sit on a rowing boat to get deeper into the countryside on smaller canals to enjoy peaceful sceneries. Travel to An Bình Island. Lunch at a local house.
After lunch, enjoy some cups of tea while listening to traditional music in the ancient house. Then visit the local workshop to see how to make rice paper, coconut candy, pop-rice… and stroll around the orchard where you can enjoy ripen fruits picked directly from the trees. Before ending the cruise trip at Vinh Long, visit the brick kilns where you can see how the local people create beautiful potteries from clay. Return to Saigon for overnight.

Day 18: Saigon Departure (B,L; G)
Today you'll have free time until being picked up to the airport for your departure flight. Say goodbye to Vietnam and see you next time!
The Quotation of the packages depends on your group size, your travel time and the standard of accommodations and meals. Kindly CONTACT US and let us know what are you looking for, we will try our best to modify a package which meets your needs.
RELATED TOURS