Perfume Pagoda Tour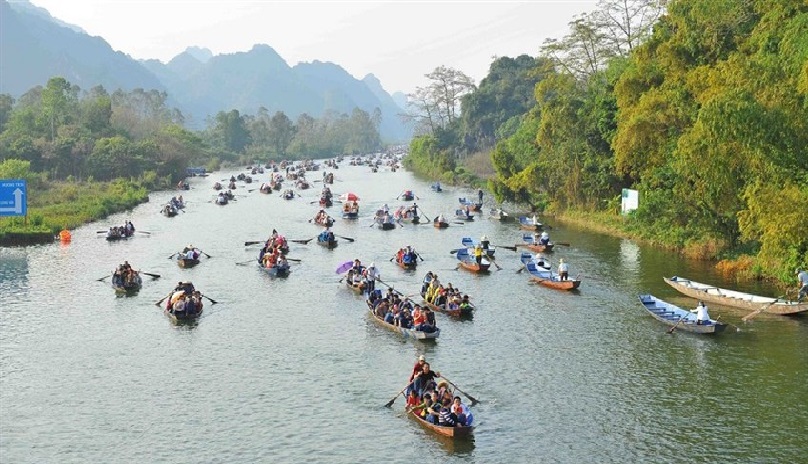 Tour starts at (city): Hanoi
Tour duration: 1 day
TOUR DETAIL
A short drive from Hanoi, for a day trip of 7-8 hours you can visit one of the most important religious Buddhist sites of Vietnam. Perfume (Huong) pagoda is a cultural religion in Vietnam, including dozens of Buddhist temples, pagodas. It is a land with harmony between the real and dream, traveling to explore Huong Son by waterway you will pass through a wonderful, peaceful stream.



8.30 pick up at your hotel. We spend about two hours drive through the picturesque countryside and back roads to the village of Duc, where we get on a small boat for a one hour trip up Yen stream to Thien Tru pagoda. The boat journeys down a narrow flowing stream fringed by rice fields, temples and grass and you will have the option to stop and visit some of these temples before heading to Huong Tich cave.
You may trek up (or take cable car to the mountain) to Perfume pagoda (top of the mountain), enjoy the spectacular landscape and learn more about typical Vietnamese Buddhist religious.
Descending and have lunch at restaurant. Then get back to Thien Tru quay to visit more beautiful and precious sculptures, taking photos, worshiping, getting on boat again back to the wharf and drive back to your hotel in Hanoi.
Optional for Cable car only 10 minutes to Huong Tich cave (the main Perfume pagoda).
Kindly CONTACT US to Book a tour to Perfume Pagoda
RELATED TOURS