Moc Chau Plateau Tour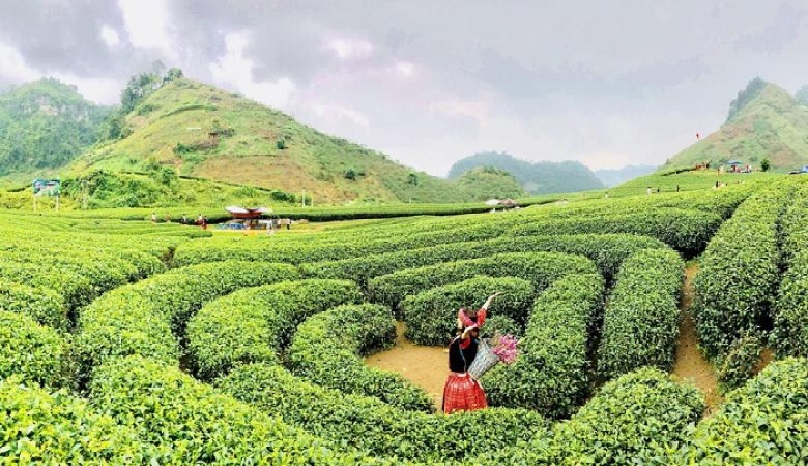 Tour starts at (city): Hanoi
Tour duration: From 1 day
TOUR DETAIL
Day 01: HANOI - MOC CHAU - DELIVERY FACTORY - LOVE SAYING - BINH BINH BINH FOREST (Lunch: Lunch, dinner)
06:00 am: Car and tour guide pick you up at your hotel
Stop to rest and have breakfast at Lang Hoa Lac Expressway . (own expense).
You continue the journey to Moc Chau , on the way you can see the simple stilt houses hidden under the great forest.
09h30 am: Stop for sightseeing and take photos at Thung Khe Pass - White Rock Pass. The pass is located at an altitude of about 1,000m above sea level. The top of the pass is where tourists can feel the cool and fresh air. From the top of the pass, you can spread your eyes to see the entire valley at the foot of the pass, face the cool breezes, and watch the green carpets full of life.
Noon: Go to Moc Chau, check in hotel, have lunch with Be Chao specialties, grilled pork...
Afternoon: Car takes you to visit:
Dai Yem Waterfall: Legend has it that this waterfall is the bib strip of the girl who saved the boy from the flood, so it has a very romantic name, Dai Yem waterfall, a place associated with the very ancient history of residence. of the Thai people in the ancient land of Muong Sang, Moc Chau today. It can be said that this is a beautiful ecological landscape bestowed by nature to the owner of this land.
18h00 - 18h30: Dinner. Freely roaming or participating in cultural exchange programs… In the drunkenness of a jar of can wine, holding hands in a circle by the flickering light of a campfire in the middle of a romantic plateau. Bustling drums, zithers, soothing trumpets, traditional dances and lyrical folk songs (expenses for exchanges at your own expense) Overnight in Moc Chau.


Day 02: Hill of Hearts - VISIT GARDEN - HANOI (Breakfast, lunch)
Morning: Get up early to enjoy the fresh air of Moc Chau mountains, have breakfast at the hotel.
Car to take the group to visit:
Tim Tea Hill (located in Tan Lap village) - with green tea hills stretching along the hillside, has become an endless inspiration for photographers and those who are passionate about Moc Chau tourism.

Moc Chau fruit seasons: Depending on the time, the guide will take you to take pictures with the typical flower gardens and orchards of Moc Chau. Surely you will be surprised and impressed by these vibrant and attractive beauties (Note: how these gardens and gardens are completely depends on the weather and people's planting plans) .

Fresh peach blossom season on the occasion of the Lunar New Year every year.

Vast season of white cabbage on the hills before and after the Lunar New Year

The buckwheat flower season is bustling from about September to December

Strawberry picking season in winter months and some different times

And a variety of local specialties spread throughout the year

Stop to shop Moc Chau specialties.
11:40 am: The group has lunch at the restaurant
13h00: Depart for Hanoi, On the way back, the car will stop at Mai Chau Flag Tower. Here you can freely take photos and admire the magnificent and magical beauty of Mai Chau town nestled below the magnificent mountain valley…
Stop to buy specialty Cao Phong oranges as gifts for family and relatives.
17h30 - 18h30: Arrive in Hanoi, tour guide bid farewell to the group to end the program, see you again in the following programs.
NOTE: Please contact to book early to receive more attractive promotions for each service item…
Tour price includes:
=> New car 7 to 45 seats shuttle according to the program.
=> Meals according to the program
=> Sleep homestay – hotel according to demand.
=> Tickets to visit
=> Enthusiastic, proficient and attentive service guides throughout the tour
=> Travel insurance
=> Drinks served in the car
Tour Price Does not include:
=> VAT invoice
=>The cost of taking pictures at the cauliflower fields in the flower season
=>Other personal expenses
TOUR PRICE FOR CHILDREN:
- Children under 4 years old are free of charge, the family will feed and sleep by themselves and pay the entrance fee (if any).
– Children from 5-9 years old are charged 75% (private seats, sightseeing tickets, full meals).
– Children from 10 years old and above are charged as adults
Kindly CONTACT US to have more details and Book a tour to Moc Chau
RELATED TOURS