VIETNAM ADVENTURE IN NORTHERN MOUNTAIN OF VIETNAM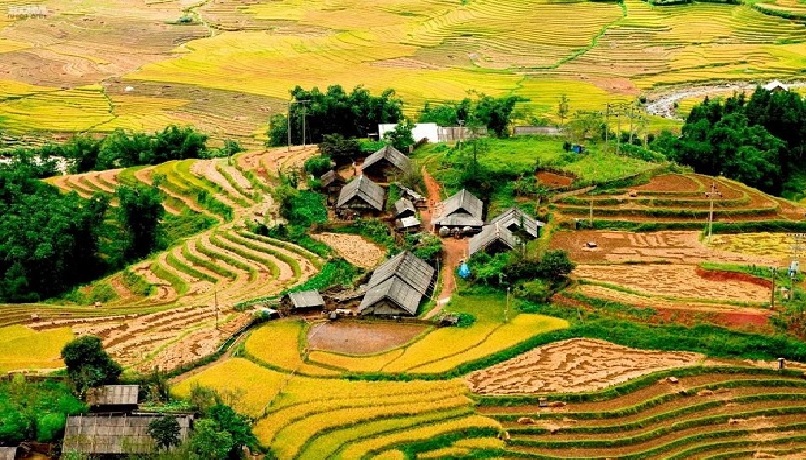 Tour starts at (city): Hanoi
Tour duration: 8 days
Hanoi - Sapa - Bac Ha - Lao Chai - Ta Van - Giang Ta Chai - Hanoi - Halong – Hanoi
TOUR DETAIL
Itinerary in brief

Day1: Hanoi Arrival (D; G)
Day 2: Hanoi - Sapa (B,L,D; G)
Day 3: Sapa – Bac Ha (B,L,D; G)
Day 4: Lao Chai – Ta Van – Giang Ta Chai (B,L,D; G)
Day 5: Sapa – Hanoi (B,L; G)
Day 6: Hanoi – Halong – overnight on board (B,L,D; G)
Day 7: Halong – Hanoi (B,L; G)
Day 8: Hanoi departure (B; G)

KEY:
B = Breakfast
Br = Brunch
L = Lunch
D = Dinner
G = Guide
GP = Guide pick-up
DP = Driver pickup
Day1: Hanoi Arrival (D; G)
Arriving at Noi Bai airport in Hanoi, you'll be met and driven to your hotel in Hanoi. You'll have time to relax after your journey.
18:00: You'll have a 'Welcome' dinner at a Vietnamese restaurant in a restored French colonial building.
19:00: You will enjoy a performance of traditional Water Puppetry, an art form unique to northern Vietnam, and a good, light-hearted introduction to its rural culture.
You'll spend the night in Hanoi.

Day 2: Hanoi - Sapa (B,L,D; G)
06:00: Our private van will pick you up at your hotel, beginning your trip to Sapa. Following Noi Bai – Lao Cai highway. Along the way, you will have a chance to enjoy the beauty of northwest mountains, terraced fields are sparkling in sunlight or dim in thick fog. Stop and have a rest in 30 minutes.
Sapa is a small town perched on the mountainside opposite Mt. Fan Si Pan, Vietnam's highest peak. After lunch at your hotel, you'll be driven along a scenic valley to visit some of the H'mong ethnic minority villages. After a stream-side picnic lunch, you'll visit the Red Dao ethnic minority people of Giang Ta Chai village. Later in the afternoon, you'll return to Sapa for your overnight accommodation.


Day 3: Sapa – Bac Ha (B,L,D; G) – only on Sunday
Drive to Bac Ha (110km / 2.5 hours from Sapa, or 72km / 1.5 hours from Lao Cai).
Take time to wander around the market, enjoy the atmosphere and have fun trying out your trading skills with the friendly local people.
Have lunch in a local restaurant where a variety of foods are available for your delectation and delight. You can even try the traditional local lunch of Thang Co (horse stew) and strong corn wine!
After lunch you will be driven to Ban Pho village where you can take a short walk around the village where Flower Hmong, Tay and Nung minorities live.
Drive back to Lao Cai or Sapa.
Optional:
Pha Long Market

Can Can Market

Lung Khau Nhin Market

Muong Hum Market

Coc Ly Market
Day 4: Lao Chai – Ta Van – Giang Ta Chai (B,L,D; G)
06h30 – 07h00: After having breakfast, you will check out hotel. You will only need to bring a change of clothing, trekking gear and toiletries for your stay at the village homestay.
09h00: You will begin your 12 km trek on small trails down the Muong Hoa Valley towards the Black H'mong village of Lao Chai. The Muong Hoa Valley contains some of the most beautiful views of terraced fields.
12h00: Y Having lunch along the Muong Hoa river in Lao Chai, you will continue along the bottom of the valley to get to the Dzay tribe village of Ta Van to experience their way of life while staying in a local family's cottage.
Day 5: Sapa – Hanoi (B,L; G)
07h30:Have breakfast in the village homestay, you will begin your trek to Dzang Ta Chai of the Red Dzao tribe. You can experience the difference between the way of life of the different tribespeople. You will have lunch in the village before you continue your trek through the amazing scenery and to the beautiful waterfall.
14h00: You will be picked up from the main road to take a ride back to the hotel. Along the way you may stop to take photos of the fabulous valley enroute to Sapa. When you arrive in Sapa, you will have enough time to freshen up with a shower and take your luggage
15:00:Say goodbye to Sapa. Our private van will take you back to Hanoi.
21:00: Arrive in Hanoi, overnight in a hotel in Hanoi Old Quarter.
Day 6: Hanoi – Halong – overnight on board (B,L,D; G)
08:00 Our van will pick you up from Hotel to Sun Group harbour.
12:00 Arrive to the cruise check in Lounge
12:45 Boarding. Welcome drinks and a quick briefing of the itinerary and safety information by our Cruise Manager.
13:15 Enjoy your Lunch while cruising to magnificent Bai Tu Long Bay, admire the fascinating formations on the way.
15:30 Visit Vung Vieng floating village by rowing boat or kayak.
16:45 Back to boat, enjoy Spa, drink at bar counter or relax on sundeck.
18:30 Anchor at Cong Do area for overnight
18:40 Cooking demonstration with traditional Vietnamese food on the sundeck (or in the restaurant if weather does not allow).
19:30 A special dinner will be served in the restaurant.
21:00 Free time for Relax on deck, Beauty Spa services, drink service available or night time fishing.

Day 7: Halong – Hanoi (B,L; G)
06:30 Early start for a Tai Chi demonstration on the sundeck
07:00 Take in the morning view of the Bay's landscape with a cup of tea or coffee and enjoy light breakfast
08:00 Explore the well-hidden Thien Canh Son cave
09:00 Check out: please put your baggage out and settle your bill
09:30 Brunch will be served in the restaurant while the boat heads back to harbour.
11:15 Disembark and farewell.
Day 8: Hanoi departure (B; G)
Today you'll have free time until being picked up to the airport for your departure flight. Say goodbye to Vietnam and see you next time!
The Quotation of the packages depends on your group size, your travel time and the standard of accommodations and meals. Kindly CONTACT US and let us know what are you looking for, we will try our best to modify a package which meets your needs.
RELATED TOURS