Soft Adventure in Northern Vietnam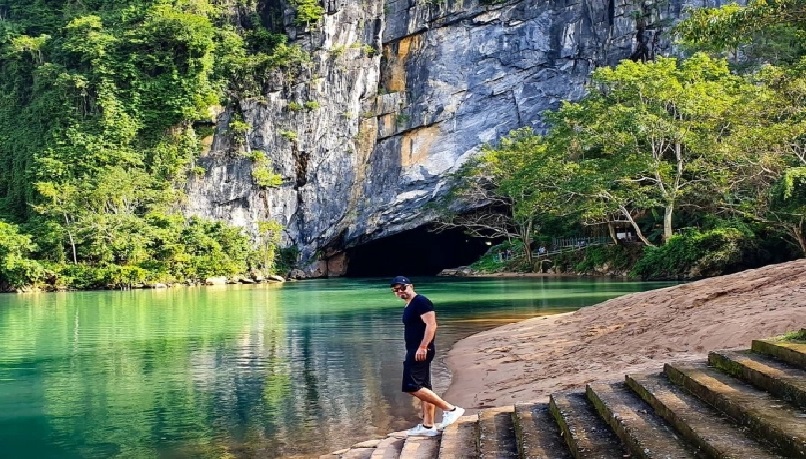 Tour starts at (city): Hanoi
Tour duration: 10 days
Hanoi - Cycling around the city - Sapa - Hanoi - Phong Nha - Dong Hoi - Halong – Hanoi
TOUR DETAIL
Itinerary in brief

Day1: Hanoi Arrival (D; G)
Day 2: Hanoi full day cycling around the city (B,L; G)
Day 3: Hanoi – Sapa (B,L,D; G)
Day 4: Sapa (B,L,D; G)
Day 5: Sapa – Hanoi (B,L; G)
Day 6: Hanoi – Phong Nha (B,L,D; G)
Day 7: Phong Nha (B,L,D; G)
Day 8: Phong Nha - Hanoi (B,L; G)
Day 9: Hanoi – Halong full day (B,L; G)
Day 10: Hanoi departure (B; G)

KEY:
B = Breakfast
Br = Brunch
L = Lunch
D = Dinner
G = Guide
GP = Guide pick-up
DP = Driver pickup
Day1: Hanoi Arrival (D; G)
Arriving at Noi Bai airport in Hanoi, you'll be met and driven to your hotel in Hanoi. You'll have time to relax after your journey.
18:00: You'll have a 'Welcome' dinner at a Vietnamese restaurant in a restored French colonial building.
19:00: You will enjoy a performance of traditional Water Puppetry, an art form unique to northern Vietnam, and a good, light-hearted introduction to its rural culture.
You'll spend the night in Hanoi.

Day 2: Hanoi full day cycling around the city (B,L; G)
08:00 Our tour guide will pick you up at your hotel then take you to our office or to our bike parking lot or we will bring our bicycles to your hotel for start the tour.
Our Cycling Countryside Tour will biking get out of the busy city. Go beyond the concrete jungle of Hanoi and onto the back roads and red dirt trails of the countryside. You will cross the red river, pass through many villages and vegetable farms.
Zoom through the bright green rice paddies while stopping to visit local cottages and see vast numbers of rice padies. Biking through the countryside you also have chance to meet the local people, our tour guide will lead you past to the most interesting and beautiful landscapes in the red river delta, on the tour not only biking we also visit the most importaint of the country's historical places: Co Loa citadel with long history back to 257 BC.
Our tour guide also takes you to visit a local market and visit a fruit farm where you can pick and enjoy the tropical fruit. Then we will stop for lunch at a Vietnamese family home where they will cook for us to enjoy lunch with local family.
After we have enjoyed our lunch, we'll continue the tour by cycling past through the villages and will stop to visit some local family's where you will have chance to meet a local a family to learn and share information about their farm and their life as local people. After we will ride along the bank of the red river back to hanoi around 4PM to 4:30PM.

Day 3: Hanoi – Sapa (B,L,D; G)
06:00: Our private van will pick you up at your hotel, beginning your trip to Sapa. Following Noi Bai – Lao Cai highway. Along the way, you will have a chance to enjoy the beauty of northwest mountains, terraced fields are sparkling in sunlight or dim in thick fog. Stop and have a rest in 30 minutes.
Sapa is a small town perched on the mountainside opposite Mt. Fan Si Pan, Vietnam's highest peak. After lunch at your hotel, you'll be driven along a scenic valley to visit some of the H'mong ethnic minority villages. After a stream-side picnic lunch, you'll visit the Red Dao ethnic minority people of Giang Ta Chai village. Later in the afternoon, you'll return to Sapa for your overnight accommodation.


Day 4: Sapa/Ethnic market/Hanoi (B,L,D; G)
After breakfast, our transport and guide will arrive to take you to visit a market frequented by ethnic minority peoples. The first part of your journey will take you through Lao Cai, which is a border crossing point, and alongside the river marking the boundary with China. After a picnic lunch, you'll return to Lao Cai for a shower and to freshen-up before boarding the sleeper train to Hanoi.
Although it's quite a long drive, the landscape is attractive and the ethnic markets are a fascinating experience. Unlike those in the tourist areas, the markets that we choose are not only for buying and selling, but are also meeting places for ethnic minority people to meet and exchange news. There will be plenty of colour and authentic costumes, but very little to buy as souvenirs unless you want to barter for a water buffalo or a sack of fertiliser!
The trips to ethnic minority markets must be on Tuesday (Coc Ly Market), Saturday (Can Cau) or Sunday (Bac Ha or Muong Hum Markets).

Day 5: Sapa – Hanoi (B,L; G)
Today morning is free and easy, you can choose to trek to Cat Cat Village or conquer Fansipan Mountain by cable car.
13:00: After lunch at the restaurant in Sapa, we will head back to Hanoi by private car.
Have dinner at a restaurant in Hanoi, and then you will relax in a hotel in Hanoi Old Quarter.

Day 6: Hanoi – Phong Nha (B,L,D; G)
08:00: Our private van and guide will pick you at your hotel.
18:00: Arriving in Phong Nha, check in hotel.


Day 7: Phong Nha (B,L,D; G)
09h00 – 09h15: Our bus and tour guide will pick you up at your hotel in Phong Nha Town, you will explore the most impressive Phong Nha caves. After 25 minutes on a boat, visitors will arrive to Phong Nha cave, take a couple of hours to see the cave. This cave is called Water Cave and it is famous for its rock formation which has been given names such as the "Lion", the "Fairy Caves", the "Royal Court", and the "Buddha".
12h30: Lunch at local restaurant before exploring the National Park in the afternoon.
13h30 – 16h00: Visit Paradise cave – the Cave was labeled the World's most beautiful and magnificent. It has the length of 31.4 kms and it's the longest dry cave in Asia.
16h30: Back to Phong Nha town
18h30: Have dinner at your own choice


Day 8: Phong Nha - Hanoi (B,L; G)
Today is spent for transfer from Phong Nha to Hanoi.


Day 9: Hanoi – Halong full day (B,L; G)
8.45 - 9.00: Hotel Pick up
Our English speaking Tour guide and driver will pick you up at the hotel as scheduled. Use the NEW EXPRESSWAY Hanoi-Haiphong-Halong in comfort and time saving. On the way, you could see the local beauties by rice fields, road-side lifestyle, longest sea-cross bridge…and we also skip the commercial shopping center as usual.
11.00 - 11.20 AM: Visit Pearl Workshop
Halong bay is famous with some floating pearl farm, the products for exporting. Visit pearl farm is interesting activity, however in one day tour, we have not enough time to do it. So we could visit a workshop on land to see how is a process of pearl collecting and see craft-man create the jewels from pearl
12.00 - 12.30: Embark Cruise
The bus will arrive Ha Long International Cruise Port (Sungroup marina). Sun group cruise is very beautiful, you enjoy beautiful scenery of Ha Long bay.
12.45: Lunch on board
Enjoy a nice set-menu lunch. By local flavors in each dish, it vitally helps to recuperate after a 3-hours-car drive.
After lunch, you are free to relax on sundeck. While the light of afternoon decreases slightly, hundreds of islands with different shares definitely amaze you by its natural beauty.
14.00: Discover Surprising Cave - Core area of Heritage site
You will leave the boat and having around 01 hour to explore Sung Sot (Surprising) cave. This least known cave locates on a remote island, which is rare in cave-lake seascape. The compartment in the heart of Sung Sot cave is surrounded by extremely beautiful niches. The outside section has a high ceiling with lots of hangover. In particular, the second compartment suddenly expanded immensely with curved domes printed in streaks of very smooth and smooth hats, wholly over the head like a large, wide theater. This is the hugest and most beautiful cave in Halong bay, locates in core area of heritage site.


15.00: Kayaking / Sampan rowing boat & visit Top island
The boat will move to Hangluon (three tunnels) area, a water cave for kayaking, rowing bamboo boat or just stay on board for relaxing and the boar will slowly moving around to sightseeing more on the bay.
You will discover the area's tranquility by kayaking - an indispensable water activity in Halong, for those who love challenging themselves or sitting on bamboo boat (Sampan), for those who love being gentle and sophisticated, to admire breathtaking scenes. This is moment you get closer to Halong's nature. if you do not join any above activities, you could stay on sundeck for relaxing, then the boat will take you to visit Titop island, you have 30 minute for swimming our climb to the top of the island.
16.15: Sunset watching in afternoon tea break
After discover Halong bay with some majors activities, the boat take you back pier. This is moment will take a rest after activities and capture the sunset on the bay. You also have time to enjoy other amazing sceneries of the wonder. A tea break & fruits (included) will served to full fill the romantic ambience.
17.30: Get on bus
It is the time to say goodbye Halong bay, Disembark to get on the bus, moving to new express way to get back Hanoi.
18.30: Sort rest
Short stop for rest room if needed, only 5-10 minutes
20.00 - 20.30: Hotel / Farewell

Day 10: Hanoi departure (B; G)
Today you'll have free time until being picked up to the airport for your departure flight. Say goodbye to Vietnam and see you next time!

The Quotation of the packages depends on your group size, your travel time and the standard of accommodations and meals. Kindly CONTACT US and let us know what are you looking for, we will try our best to modify a package which meets your needs.
RELATED TOURS