North Vietnam Adventure in Style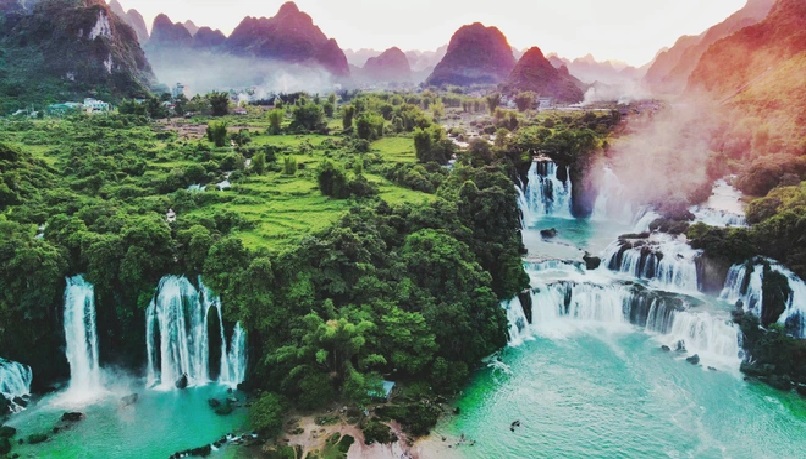 Tour starts at (city): Hanoi
Tour duration: 12 days
Hanoi – Ha Giang – Cao Bang – Halong – Cat Ba – Hanoi
TOUR DETAIL
Itinerary in brief

Day1: Hanoi Arrival (D; G)
Day 2: Hanoi – Ha Giang (B,L,D; G)
Day 3: Ha Giang – Bac Sum Pass – Twin mountains –Lung Tam village – Yen Minh – H'mong King palace – Dong Van town (B,L,D; G)
Day 4: Dong Van Town– Ma Pi Leng pass – Meo Vac town – Bao Lac town (B,L,D; G)
Day 5: Bao Lac town – Pac Po cave – Ban Gioc waterfall – Cao Bang City (B,L; G)
Day 6: Cao Bang city to Ba Be Lake (B,L,D; G)
Day 7: Ba Be Lake – Hanoi (B,L; G)
Day 8: Hanoi - Halong (B,L; G)
Day 9: Halong – Cat Ba Island (B,L; G)
Day 10: Cat Ba – Monkey Island (B,L; G)
Day 11: Cat Ba – Hanoi (B,L; G)
Day 12: Hanoi departure (B; G)

KEY:
B = Breakfast
Br = Brunch
L = Lunch
D = Dinner
G = Guide
GP = Guide pick-up
DP = Driver pickup
Day1: Hanoi Arrival (D; G)
Arriving at Noi Bai airport in Hanoi, you'll be met and driven to your hotel in Hanoi. You'll have time to relax after your journey.
18:00: You'll have a 'Welcome' dinner at a Vietnamese restaurant in a restored French colonial building.
19:00: You will enjoy a performance of traditional Water Puppetry, an art form unique to northern Vietnam, and a good, light-hearted introduction to its rural culture.
You'll spend the night in Hanoi.

Day 2: Hanoi – Ha Giang (B,L,D; G)
Your guide will collect you from your hotel in Hanoi at 8am, beginning your journey to the stunning mountains of Ha Giang by travelling along Road No.2, where you will slowly see the scenery around you change from bustling metropolis to rolling countryside. Not far out of Hanoi, you will stop in Duong Lam Ancient Village, a site rich in history and culture, containing such sites as Mong Phu Temple and Mia Pagoda with its 287 statues and centuries old houses. Here we will enjoy a taste of rural life as we are served a home-cooked local meal for lunch, before continuing along the winding river from Duong Lam deep into the mountains of Ha Giang, marvelling at the spectacular views along the way. Once in Ha Giang City, we will check in to our local homestay and enjoy a home-cooked dinner.


Day 3: Ha Giang – Yen Minh – H'mong King palace – Dong Van town (B,L,D; G)
Having breakfast at 8:00am → After breakfast, we will continue our journey to more distant villages. From there, you will know how people live in remote parts of Vietnam. We will drive through the villages of Lung Ho, Mau Due and Meo Vac ( we will have lunch in Meo Vac town) . After lunch, we will continue our drive towards Dong Van town. We will make few stops for admiring the scenery and taking some photos of the Ma Pi Leng pass (one of the four most beautiful pass in Vietnam) and then we will going to Dong Van town, have dinner and enjoy the night there, Overnight in a Hotel ( 2**)


Day 4: Dong Van Town– Ma Pi Leng pass – Meo Vac town – Bao Lac town (B,L,D; G)
After breakfast (8:00), We will visit Lung Cu Village – the North Pole of Vietnam where, you can see beautiful village landscape down and the big flag at the top of the Dragon Mountain. We will go visit Lolo Chai village and the North point of Vietnam and then go to Lung Tao Village and have lunch there. After lunch, we visit Vuong Family, still called "Hmong King's palace." We will continue our drive towards Yen Minh Town, Quan Ba town, Nam Dam village. We will make few stops for admiring the scenery and taking some photos on the way. We will sleep in Nam Dam village, you can experience the culture and customs of the Black Dao people in Nam Dam Village which is dotted with stilt houses and surrounded by terraced paddy fields. (We have dinner in the homestay with Dao ethnic group and learn more about their cultures).


Day 5: Bao Lac town – Pac Po cave – Ban Gioc waterfall – Cao Bang City (B,L; G)
After breakfast, we will continue our driving to Pac Po cave (Right on Vietnam's northeastern frontier with China, Pac Bo Cave is an important historical site in an enchanting location. The landscape along the Chinese border, in Vietnam's Cao Bang Province, is characterized by forested limestone mountains, blue rivers, and green rice paddies. Small villages of mud and straw houses dot the narrow valleys. The scene can't have changed much since 1941, when Ho Chi Minh walked across the border from China, entering his native Vietnam for the first time in 30 years.) We will have lunch on the way. After lunch we will continue our driving to Ban Gioc waterfall (Ban Gioc Waterfall is one of Vietnam's most impressive natural sights. Located in the northeastern province of Cao Bang, the falls are 30 meters high and 300 meters across, making Ban Gioc the widest (but not the highest) waterfall in the country. The falls occur on the Quay Son River, a beautiful jade-blue body of water flowing from China through a pastoral landscape of rice fields and bamboo groves surrounded by limestone pinnacles.) And then we come back Cao Bang City. Have dinner and enjoy the night there, Overnight in a Hotel.
Day 6: Cao Bang city to Ba Be Lake (B,L,D; G)
After breakfast, we will continue our driving to Ba Be Lake and and we have dinner in Pac Ngoi village of Tay people, on the way you can take some photos with the magnificent view of the rice fields, mountains and valleys. We have lunch on the way. In the afternoon we have boat trip around the lake and we go to Pac Ngoi village.

Day 7: Ba Be Lake – Hanoi (B,L; G)
Today you will board a boat trip around Ba Be Lake. You can relax on board, do some wildlife spotting or if you need to cool off, you can jump into the cool, clean waters for a refreshing swim! As you float down the Nang River, you can take in the scenery of the surrounding karsts decorated with patches of wild vegetation and inhabited by all sorts of interesting creatures. Look out for the rainbow of butterflies that flit across the sky or listen to the gentle song of the many species of birds in the park. The boat will come to Puong Cave where you can explore the stalactites and stalagmites which are a result of the erosion of the river on the karst as well as looking out for the bat colony several thousand strong. After your, exploration of the lake, you can rest on the drive back to Hanoi, taking in the beautiful scenery on the way. You will stop for lunch at a local restaurant on the way before arriving back in Hanoi at about 17:30.
Day 8: Hanoi - Halong (B,L; G)
08:00 Our private van will pick you up from Hotel to Sun Group harbour.
12:00 Arrive to the cruise check in Lounge
12:45 Boarding. Welcome drinks and a quick briefing of the itinerary and safety information by our Cruise Manager.
13: 15 Enjoy your Lunch while cruising to magnificent Bai Tu Long Bay, admire the fascinating formations on the way.
15:30 Visit Vung Vieng floating village by rowing boat or kayak.
16:45 Back to boat, enjoy Spa, drink at bar counter or relax on sundeck.
18:30 Anchor at Cong Do area for overnight
18:40 Cooking demonstration with traditional Vietnamese food on the sundeck (or in the restaurant if weather does not allow).
19:30 A special dinner will be served in the restaurant.
21:00 Free time for Relax on deck, Beauty Spa services, drink service available or night time fishing.

Day 9: Halong – Hanoi (B,L; G)
06:30 Early start for a Tai Chi demonstration on the sundeck
07:00 Take in the morning view of the Bay's landscape with a cup of tea or coffee and enjoy light breakfast
08:00 Explore the well-hidden Thien Canh Son cave
09:00 Check out: please put your baggage out and settle your bill
09:30 Brunch will be served in the restaurant while the boat heads back to harbour. You will take The Ferry from Tuan Chau Island to Cat Ba Island
13:00: Have lunch at hotel in Cat Ba Island.
PM: You will have free time to explore the island by yourselves.
Day 10: Cat Ba – Monkey Island (B,L; G)
08h00: Pick up from your hotel in Cat Ba or at Our office to the fishing harbor or Ben Beo harbor and take a boat around Lan Ha Bay. Passing through the floating fishing village, enjoy with hundreds of limestone island. Keep cruise to Ha Long Bay to sightseeing the most beautiful landscapes in less touristy areas.
Kayaking through the rock arch to hidden lagoons and tunnels to discover the light cave and Dark cave (called Hang Ca).
12h30: lunch on the boat (buffet, set menu or BBQ)
Afternoon: Swimming at a secluded sandy beach at Ba Trai Dao lagoon. Snorkeling is optional. After swimming take a light meal to eat healthy chicken soup, and then take you to visit the monkey island,
Return to Cat Ba Town at 4h00Pm


Day 11: Cat Ba – Hanoi (B,L; G)
08:00: our van picks you up at your hotel to transfer you to Cai Vieng Harbour, then you will take speed boat from Cai Vieng Harbour to Got Harbour.
Our van will pick you up at Got Harbour and head back to Hanoi.
Day 12: Hanoi departure (B; G)
Today you'll have free time until being picked up to the airport for your departure flight. Say goodbye to Vietnam and see you next time!

The Quotation of the packages depends on your group size, your travel time and the standard of accommodations and meals. Kindly CONTACT US and let us know what are you looking for, we will try our best to modify a package which meets your needs.
RELATED TOURS